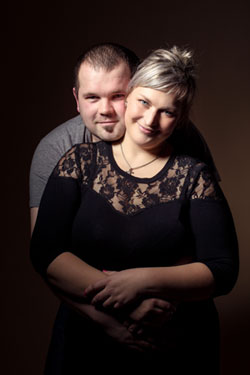 It's time to get over the stereotypes. For a long we have kept ourselves restricted to the images that the society has created for us. Thus, some people consider fat people ugly. When it comes to dating, most people look for slim and beautiful partners. What we tend to forget is that in relationships how much love and care you get, how much you enjoy each other's company matters more than looks or anything else. Moreover, size has nothing to do with beauty. If you look around you would find a lot of big and beautiful women and big and handsome men. For these BBW and BHM, thankfully, the scenario is changing fast. Today, you will find big and handsome men in the dating scenario. There are an equal number of big and beautiful women as well who are happy with their partners.
Bigger guys and gals – look for the real thing
Obesity is increasing throughout the world. It is a menace that many of us are fighting today. Although the media promotes images of thin men and women, in reality, it is the expanding waistlines and double chins that rule the world. As a result, we have to change our perspective towards big people and learn to accept that everyone cannot possess hour glass figures. Are you a big and handsome man dating a BBW? If so, you may be lucky to have found the love of your life. While we know you are happy with your lady love, we still would love to share a few tips on dating with you that would make your relationship more enjoyable.
First of all, have fun – everybody loves to enjoy life and get their share of happiness. Have fun when you are together. Act silly, crack jokes, make fun of each other and fill every moment with joy and laughter. Go for long walks, visit museums or zoos or even entertainment parks. Do not let your size come in between you and having fun. Do whatever your heart wishes and let your partner enjoy herself too.
Next, create your bucket list – we all have things that we have always wanted to do but couldn't due to either a busy schedule or a lack of courage. It is time to go through your bucket list and do all those interesting things. Go for hiking if you want to. Did you ever want to learn dancing? Do it now. Painting? Carpentry? Bungee jumping? Skiing? Whatever wishes you have let them come alive. Live life fully so that you can create memories that both of you will always cherish.
Be the man your partner has been looking for – Your BBW girlfriend has chosen you over others because of your nature and values. Make sure to be a man of integrity. Respect her, pay attention to her needs and make sure she enjoys your company. Remember that love is not only about gifts or eating out. Spending time with each other, sharing secrets, being best friends and providing support, these are more important in a relationship.
Do not fake your feelings. Your BBW partner may have body issues that she hides from you. Never make fun of her figure or eating habits. Stay away from negative thoughts and encourage her too.
Find common interests – there will be certain things that excite both of you. It can be sports, books or movies. It even can be food. If food binds you together go for gourmet tours. Try cooking together or simply enjoy your favorite beer while watching the sunrise. Give each other treats without any reason. Cook your partner's favorite food or buy her chocolates or ice-cream.
BHM dating BBW is common now. You will find dating apps that are specially designed for plus sized men and women. Through our site, you can meet a lot of young women. Being a big guy would not be a hindrance to finding love and romance in life. Be confident of yourself and just go ahead.